Who is the New Solo Female Traveler? The age & HHI will surprise you.
The types of travelers we are marketing to has changed. When you think of solo female travel, images of early 20-somethings backpacking around Europe might come to mind. But she's grown up – the new solo traveler is in her 30s, with a household income around $150,000, according to Rosetta Stone's latest study.
"Women now make up 84% of solo travelers and millennials make up 55% of users who look for "solo travel" on the internet." – Rosetta Stone
So, how do you market to that group? The group has a lot of spending money for trips, seeking luxury AND adventure, and they might not have ever considered your destination before. In fact, a simple Google search of the best solo female travel destinations brings up over 17 million search results.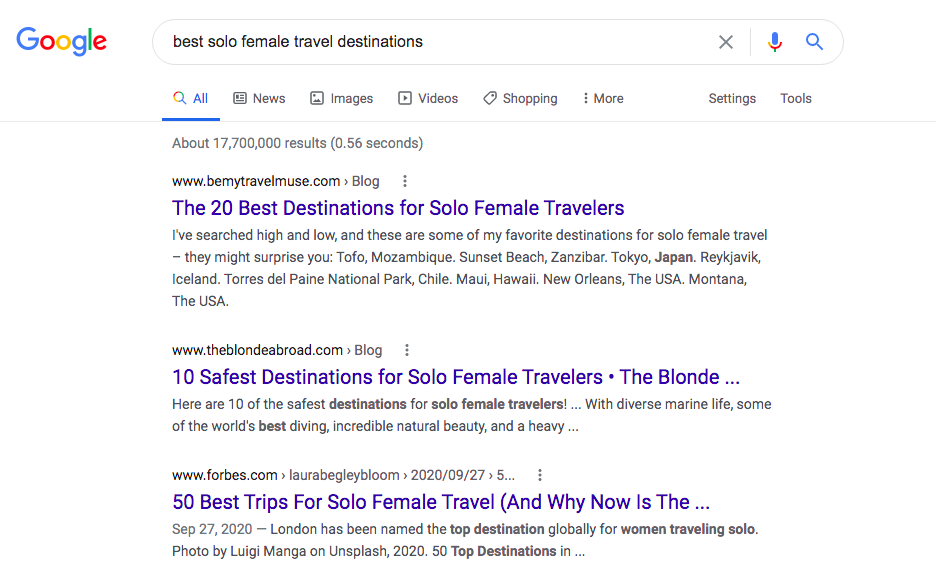 Before we get to the marketing tips, let's examine some of the top solo female travel influencers.
View this post on Instagram
View this post on Instagram
View this post on Instagram
View this post on Instagram
Here are 5 things they're looking for on their next solo trip:
Solo female travelers are looking for destinations that are safe and approachable but still offer adventure. (Assure them that they are welcomed and how to have a safe adventure trip.)
They want beautiful accommodations. (Showcase your rooms with views)
Sometimes, they want to be pampered. (Does your destination or hotel offer an amazing spa experience?)
They like to keep their fitness routine. (What activities do you offer? Sunrise Yoga, stand up paddle board, hiking, etc)
They want to see that others have done it, so they can do it too. (This is where partnering with influencers comes in.)
Now that you know what they're looking for, here's some ideas on how to market to them:
Bring in solo female travelers to your destination or your hotel to show off what it's like to travel there and stay on property.
Get them to create a guide to Solo Female Travel that lives on your website or their blog.
Add a section to your website catering to solo travelers and include all the necessary information to help them plan their trip to your destination.
Feature them on your Instagram, Twitter, Facebook and Pinterest channels.
Create an interview series, where you interview on IGLive about their experience and allow followers to ask questions about their trip in real time.
Purchase some of their photos so you can update your website and social channels with those authentic solo female travel images.
Appealing to solo female travelers is easy with a few simple tweaks to your content strategy and website landing pages. If you're looking for the perfect solo female traveler influencers for your brand, reach out and we'll create a detailed list of the perfect partners and organize a campaign that hits multiple touch points and platforms.